Please note all information is subject to change. We recommend contacting the business first to confirm trading hours etc. For the sake of this list the use of the word "Vegan" refers only to the food, drinks and products sold.
*Please advise us if any of the businesses on the list sell or promote any animal products*
Choose 100% Vegan first and foremost and anything less only when you have to. Please support these wonderful *Vegan* businesses to help them thrive.
Raw Squeeze at Lorna Jane – Coolangatta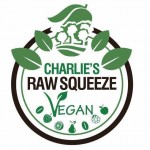 Charlie's Raw Squeeze is an innovative vegan juice bar that combines Johnny and Michael's extensive knowledge of fresh and local produce.
Backed with passion and experience, Raw Squeeze continues to revolutionise the juice bar industry.
Indulge in fresh smoothies, freshly squeezed juices and salads made with the same produce supplied to Charlie's Fruit Market.
Charlie's Raw Squeeze dishes up Vegan offerings with plenty of raw, gluten-free, dairy-free and refined sugar-free options available.
Charlie's Raw Squeeze is 100% Vegan.
Why Patronize 100% Vegan Businesses and Restaurants?
• No worries or questions about hidden animal ingredients.
• No mix-ups of being inadvertently served or sold animal products.
• No cross-contamination of kitchen and cooking surfaces.
• No one will be eating animal products in your presence.
• Vegans are the ones who must support them if we want more of them.
• Vegan business owners need your help to stay in business.
Choose 100% Vegan first and foremost and anything less only when you have to.